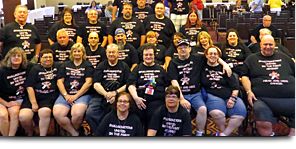 Celebrating over 50 Years
Every September, the Association of American Hockey League Booster Clubs holds a convention where member booster clubs support each other by sharing information on successes throughout the past season and looking forward to the new season ahead.
The Association held its first convention back in 1965 in Bedford, Pennsylvania. It has ballooned in attendance with over 225 in attendance at the 50th convention held in Pittsburgh, Pennsylvania in 2014.
The convention is hosted by a current AHL city (or former city) each year. This convention has become known as "The Family Reunion".
[ read more ]